Meet the Best Pediatric Dentists in Aurora
Dr. Christopher Patterson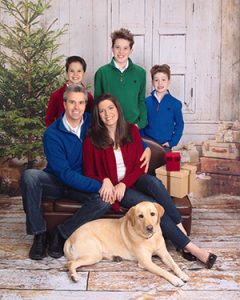 Doctor Christopher Patterson grew up in a small town near Boulder, Colorado. After graduating high school he served a mission in Ventura, California and the surrounding central coast cities. It was after this time that he met his lovely wife Tara.
After receiving a Bachelor in Medical Science from the University of Colorado Denver Health Sciences in 2006, Doctor Patterson attended the University of Colorado School of Dental Medicine. During his dental education he completed multiple externships in general practice residency and advanced education in general dentistry programs. Since this experience he has strive to be the best pediatric dentist in Aurora, through his friendly practice. He also enjoyed traveling to rural areas with the children's mobile dental clinic to help the under-served children of Colorado.
Following dental school Dr. Patterson completed a one year general practice residency at the University of Utah in Salt Lake City, Utah. It was at this time he decided to dedicate his life to pediatric dentistry and he was accepted to the NYU-Lutheran Medical Pediatric Dental Residency at the Tucson Arizona site. This allowed for further instruction in pediatrics and special needs dentistry including; oral surgery, orthodontics, medicine, hospital dentistry, special needs,sedation, trauma, growth, development, and behavior management.
As a parent of three active young boys, he understands the unpredictability of raising children. For this reason he tries to make himself available for those unexpected problems. His dental philosophy centers on creating a dental home where patients feel comfortable and confident that their needs can be met. Additionally, he believes strongly in a preventative and conservative approach to dental care. This approach helps patients and families develop a good attitude toward oral health care that lasts throughout life. He makes sure to answer ever question in depth so that patients are educated on keeping their mouths healthy.
Dr. Patterson and his family love their home state of Colorado. They enjoy the hiking, biking, skiing, and camping in the beautiful mountains. They can't think of any other place they would rather call home.