Please feel free to contact us at 720-721-3600 if you have any questions or concerns regarding our services.
We know every parent only wants the best for their children. At Epic Dentistry for Kids, we provide both attentive dental care for children from infancy to adolescence. Best of all, our dental office is located just a few miles from Denver, so there's no need to sacrifice quality for convenience.
Best Pediatric Dentist in Denver
Dr. Christopher Patterson is a Colorado native who was raised in a small town by Boulder, CO. After dental school, he completed a one year general practice residency but soon realized pediatric dentistry was his real passion. He pursued this a pediatric dental residency at the NYU-Lutheran Medical Center where he learned and trained in pediatrics, special needs dentistry, sedation, medicine, orthodontics, oral surgery, trauma, growth, development, and behavior management. Once he completed his education, Dr. Patterson returned to his community in Colorado where he provides pediatric dental services for patients throughout Aurora, Denver, and Centennial. It's his mission to create a comfortable environment where patients feel at home and know their needs will be met. This allows patients and families to develop a positive attitude toward oral health for a lifetime.
Board Certified
In order to give his patients the best treatment possible, Dr. Patterson has completed his board certification through the American Board of Pediatric Dentistry. As a Diplomate of the American Board Pediatric Dentistry, he completed a specialty graduate program and written and oral clinical examination demonstrating his competency as a pediatric specialist. Certification must also be renewed annually, so pediatric dentists need to continually deliver exceptional care and stay educated about dental news.
Testimonials
"Very impressed! I called Epic Dentistry for my 4yo son the day after Christmas; our normal DDS wasn't open; and was able to bring him in about an hour after I called; very pleased about that. Their office is super cozy and they greeted us with a big warm welcome as we stepped in the door! Very friendly staff, and Dr Patterson was very calm and patient w/my son. Overall experience was excellent and plan to continue my son's Dental care here from now on!" – Kelly D.
"My daughter has been going here her entire life but this is first time she need anything more than preventive care. The dentist and her assistant were very good and patient. They explained everything well and made my daughter and myself very comfortable. Absolutely the best dentist I coulda picked for her" – Lisa S. from Denver, CO
"Love this place and the entire staff! Everyone is so warm, welcoming and friendly! We were in and out with two kids so fast! Dr. Patterson is amazing and my kids look forward to going back!" – Alyssa S. from Denver, CO
"My kids have been seen here for almost 10 years. It's not remotely close to where we live but we make the drive because of the amazing staff there!" – Kim A.
"Very professional and kind. They worked with me despite my hectic schedule and treated my son with the utmost care. They also take the time to remember you and your child which is important to me." – Amber A.
Tips for Parents from Denver
Dental Anxiety: Children who haven't established a safe, comfortable experience at the dentist may experience dental anxiety. We understand it can be stressful to be in a new city with strange people operating on your teeth, so our Denver pediatric dentist at Epic Dentistry for Kids will walk your child through the process beforehand to alleviate any fear and confusion.
If your child is scared of the dentist, we recommend taking a tour of our office before their appointment. There are also tons of positive dentist-related books and TV shows you can use to teach them about the importance of the dentist.
Scheduling: As parents, we understand how difficult it can be to coordinate visits to the dentist when your child has school 5 days of the week. You can, however, schedule appointments on non-student contact days, family conferences, and holidays when class isn't in session. The Denver Public School District System releases its annual calendar with all the dates you need to know ahead of time. At Epic Dentistry for Kids, we're happy to accommodate to your needs and book appointments in advance. We know how hectic life gets, so we'll also be sure to send you reminders about your child's upcoming appointment when the date approaches. Check out the Denver Public School District's 2018-2019 school year calendar below to see what days are best for your family!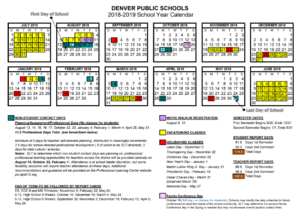 Preventative Dentistry:  Teaching your child to take care of their teeth properly at home is just as important as getting regular dental checkups. To get your child excited about oral hygiene, you can let them choose their own toothbrush, toothpaste, mouthwash, and even rinsing cup! Most stores in Denver offer children's dental products, so swing by every three months and let them stock up on their favorite appliances!
Getting to Epic Dentistry for Kids from Denver
We love getting patients from all throughout Colorado. For those of you who are coming from Denver, Epic Dentistry for Kids is only a 20 minute drive away. You can either take 70 East and 225 South or you can even take Alameda Avenue all the way to our pediatric dental practice. Parking is free, so there's no need to worry about where to put your car. Feel free to give us a call if you have trouble finding your way to our office!
Reach Us
720-721-3600
390 S Potomac Way Ste A,
Aurora CO 80012
Office Hours
Monday: 9:00am – 6:00pm
Tuesday – Friday: 8:30am – 5:00pm