Granted, everyone has a different viewpoint regarding braces, but the truth is that younger generations are far more used to the idea of undergoing orthodontic treatment than we ever were just a few decades ago. Braces are now much more sleek, efficient, and comfortable than ever before, and even though many adults are considering getting the dental alignment treatment they always deserved, we're here to talk about how you can prepare your kids to start treatment with braces.
If your kid has been undergoing treatment with a qualified pediatric dentist, they will have received guidance regarding their dental development and been referred to an orthodontist at the appropriate age to spot any signs of dental malalignment.
Fortunately for you, if you bring them to Epic Dentistry for Kids, you will have found a dental home where your kid will receive all the care and attention that only a pediatric dentist can deliver expertly, along with the possibility of beginning orthodontic treatment at the most appropriate time because we offer services for dental alignment care as well.
Still, if you're far from our Aurora pediatric dentistry office, you will find this information to be useful in planning when and how to take your kid to the orthodontist to begin their treatment with braces.
Tips to Prepare When Getting Braces
Let's talk a little bit about what to expect when getting braces to realign your teeth.
What to Expect When Getting Braces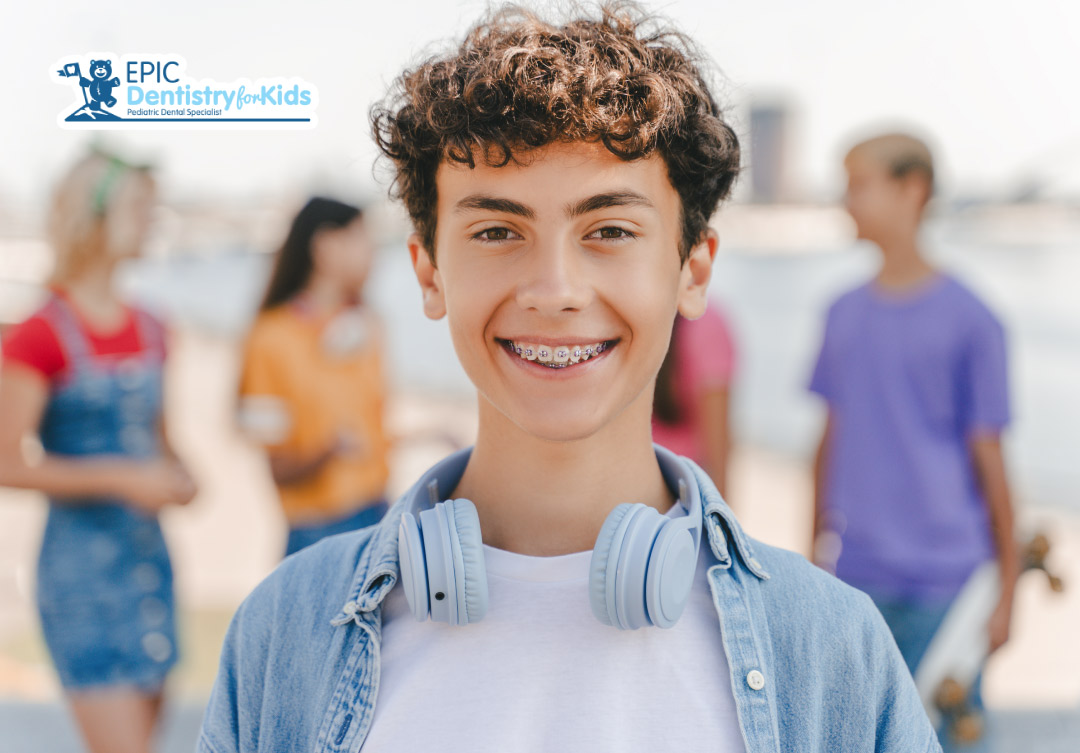 Fortunately, there's nothing to fear regarding the process of getting braces. First of all, getting a model of your teeth' current status is extremely comfortable now when compared to the way it was done some years back. Children will come to their visit with an orthodontist, and we will take a model of their dental structures to determine what the best treatment options are. The process won't last long, and we'll check when your kid can return to get their braces installed.
The installation process is not complicated, as you can trust our team's experience to be as efficient and careful as your kid deserves.
How to Brush Your Teeth With Braces
One of the most important elements that contribute to the success of your kids' treatment with braces is oral hygiene. Please help your kid prepare by explaining how crucial it is to maintain good dental hygiene. Brushing teeth is extremely important, so you should help your kid by joining them and showing them how to do so correctly.
Invite your kid to brush their teeth when you do the same, and keep a soft-bristled toothbrush they can use to brush their teeth when wearing braces without the risk of damaging anything. Another important aspect of oral hygiene includes using dental floss. Kids may find using dental floss too challenging, which is why we would recommend you consider getting interdental brushes or a water irrigator to help your kid maintain good oral hygiene without too much struggle.
What About Orthodontic Emergencies?
Fortunately, orthodontic emergencies are not life-threatening situations, but because they're very alarming, you should still warn your kid that they can happen, how to avoid them, and what to expect.
Most cases of orthodontic emergencies include loose brackets, lost aligners, and poking wires. These situations can cause some discomfort, but they won't cause permanent damage to your kids' teeth. Still, we recommend you let them know that they have to be careful about damaging their braces or losing clear aligners during mealtimes, as it is then when most emergencies occur. Some patients lose their aligners by tossing them with the rest of the garbage at a food court, while others damage their braces by disregarding their orthodontist's dietary recommendations. Please teach your child to care for their orthodontic appliance during their treatment.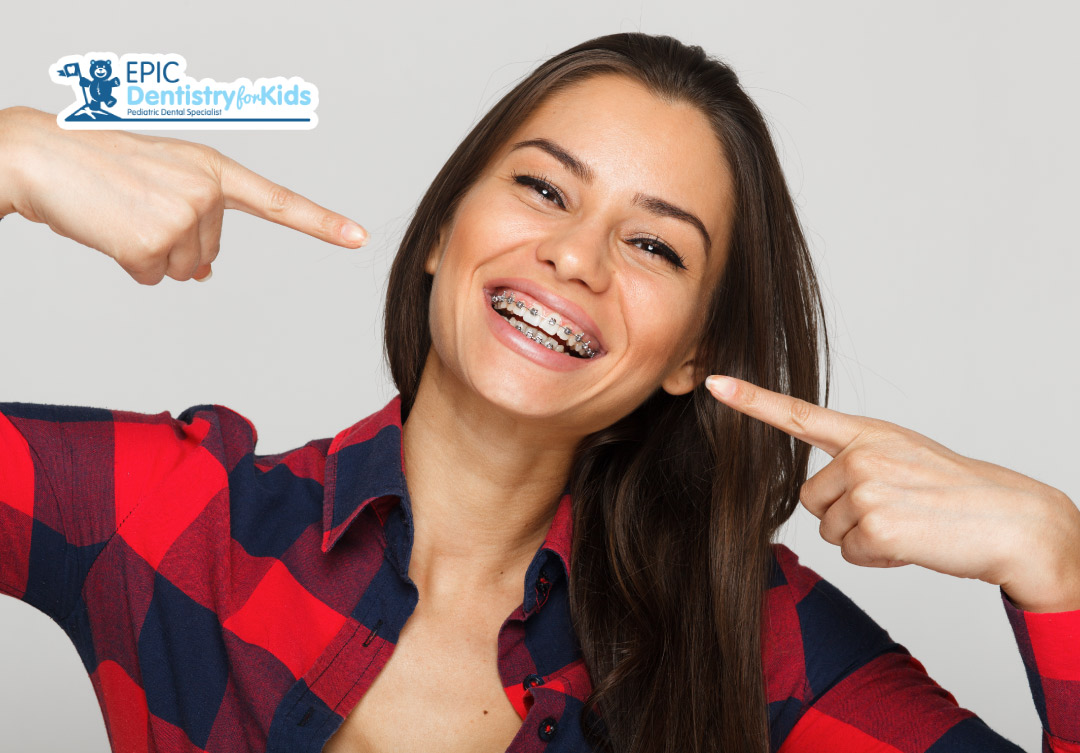 What to Eat With Braces?
We mentioned just above that your kids' orthodontist will offer some recommendations regarding what patients should eat during their orthodontic treatment. Hard foods, chewy treats, and sugary beverages will contribute toward increasing the risk of tooth decay but are far more dangerous to your braces because they can cause severe damage. Popcorn and hard taco shells will break down into smaller pieces that can get stuck between your kids' teeth and their brackets, essentially peeling away the bracket and causing an orthodontic emergency. Furthermore, these are foods and drinks that can hurt your child's oral health when paired with a lack of a good oral hygiene routine.
Please help your kid set the right expectations regarding their dietary habits during orthodontic treatment to ensure it carries on without issues.
When Should My Kid Go to the Orthodontist?
The American Association of Orthodontists (AAO) officially recommends children go to an orthodontist for the first time by age 7. It is at this stage in your kid's development that both primary and permanent teeth are present, letting the specialist keep track of proper dental development and spot any signs of incoming problems related to dental alignment. You should have a conversation with your child to let them know they should go to the orthodontist for a routine visit and help deal with any feelings of anxiety. Also, please remember that an initial visit to the orthodontist doesn't have to mean getting braces right away. However, if you as a parent know that there is a history of dental malalignment in your family, you should help set the right expectations and tell your kid that they would benefit from beginning treatment with an orthodontist at an early age.
Fortunately, if you're bringing your kid here at Epic Dentistry for Kids, you will have done a lot to make this an enjoyable experience, as your kid won't have to fear meeting a new team or visiting a new location for a treatment they may not fully understand. Our team has extensive training in pediatrics and orthodontics, making it an ideal place for your child's smile to look the best it ever has!
Set an Appointment With Us!
As the best pediatric dentist Aurora residents can find and a leading provider of orthodontic treatment solutions for kids as well, you can trust our team to place the utmost value on your kid's comfort and dental well-being. So make sure to set up an appointment and bring your kid for a consultation to begin their treatment and enjoy a healthy and beautiful smile.