We all love Thanksgiving and look forward to having days off from work and school as well as sharing delicious meals with family and friends that we might not see so often in the year. But what exactly is Thanksgiving? Let's take a closer look at one of the most loved Holidays.
According to the Britannica encyclopedia, Thanksgiving Day is an annual national holiday in the United States that celebrates the harvest and other blessings of the past year. Here in America, we generally believe that Thanksgiving follows the 1621 harvest feast the English colonists or Pilgrims shared.
This American holiday is particularly rich in legend and symbolism. The traditional food of the Thanksgiving meal typically includes turkey, bread stuffing, potatoes, cranberries, and pumpkin pie. Among many other delicious foods and desserts.
In short, it is a day to be thankful for everything and everyone we have in our lives.
Today, everyone at Epic Dentistry For Kids wants to say Happy Thanksgiving from our family to yours in Aurora! We know everyone loves a good family dinner, but a traditional Thanksgiving spread requires a LOT of time and work to prepare.
Between cooking the turkey, mashing the potatoes, and handling all of the other yummy foods your family loves to eat, the whole endeavor can be very overwhelming.
But how could we forget about one of the best parts? Thanksgiving pie has to have a special place on our tables. Is it apple pie? Would you prefer sweet potatoes for yours? Pecans? These options will have you covered whichever your preferences.
The Best Pies in Aurora
While the main and side dishes all matter at your Thanksgiving dinner, dessert is definitely the part that kids look forward to the most. This year, consider giving yourself a break and ordering a pie for dessert from one of these local pie hot spots!
Granny Scott's Pie Shop in Lakewood is another great option for your pie needs! They can even make most of their pie recipes in a gluten-free option, as long as you order two days in advance! You can order your pie online or go visit their store to see what flavors stand out to you. Be sure to ask about their "Spotlight" Pie and Cheesecake!
Manna Bakery & Deli in Littleton also offers a lot of great pies for your Thanksgiving table. Manna Bakery has been a staple in the community for years. Their loyal customer base goes crazy for their pies! You can purchase their pies whole or by the slice. Everything is made from scratch and is perfect for your Thanksgiving feast.
The Village Inn is taking pie reservations, so it would be a good idea to get a jump on it! This is a full restaurant that also offers a variety of sweet and savory pies, which are the main attraction this season. These famous pies couldn't be complete without some wholesome ingredients such as fresh fruits and real whipped cream!
Yummy flavors include chocolate peanut butter cup, French silk, key lime, southern pecan, and pumpkin supreme. You can find them just off of Colfax Ave in Aurora.
Mimi's Bistro & Bakery is a neighborhood bistro that offers fresh, hand-prepared American-French comfort food. They source the freshest ingredients in order to give you a mouthful of flavors. They also make delicious seasonal desserts. A caramel apple pie or a triple berry crumble is the perfect addition to your table this Thanksgiving. If pie isn't your favorite, this year, they are offering a pumpkin creme brulee!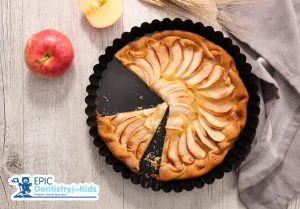 Don't Forget About Proper Oral Care
Remember, it's essential to maintain good oral hygiene with all the food and dessert intake. Thanksgiving is the holiday of eating, and your child's teeth still need a thorough cleaning after each meal.
High intakes of sugar are not good for teeth and gums. We recommend limiting the number of high-sugar foods that you consume. It can help your child's teeth in the long run. Whether it was the sweet potatoes you used for the pies, the green beans you served as a side, or the cranberry sauce you prepared with fresh cranberries, your child's dental health will be at risk without proper oral hygiene.
There are many things parents can do to avoid tooth decay and protect their children's tooth enamel layers. Now, as a parent, you might think that your child is too young to visit a pediatric dentist or that a pediatric dentist isn't important. After all, you have a family dentist that has seen various of your family members for years, but there is a difference. Let's take a look at what exactly is a pediatric dentist and why they are crucial in your child's life.
How Important Are Healthy Teeth For Children?
Our teeth have such an important role to play in our lives. Teeth help your child chew and digest food, they help your child talk and speak clearly, and they also give your childs' face its shape.
A healthy smile also has other benefits, such as it gives your child greater confidence and influences your kids' social lives and relationships positively.
Oral Care Tips To Follow With Your Child
Your young child may think they can brush their teeth on their own; however, most children don't have the manual dexterity for thorough teeth cleaning until they are about 7 years old. At Epic Dentistry For Kids, we recommend that until then, you should help your child brush and floss.
At first, and to build self-confidence, let them "do it themselves" and then follow up by helping them brush and floss again. Most young children do best when set on regular schedules, so try making morning and evening tooth brushing and flossing a family event and do your own brushing and flossing at the same time.
If your child is five years old or older, they are starting to get their permanent molars, so remember to use a fluoridated toothpaste and toothbrush. Helping them reach and brush their molars is also very important. Keep their gums healthy, minimize the risk for tooth decay, and keep oral health issues at a minimum by carefully eliminating leftover food particles with a good hygiene routine.
Visit the Experts
Children should follow the same oral hygiene routine suggested for adults, including brushing at least twice a day and flossing at a minimum once per day.
Here at Epic Dentistry for Kids, we are very thankful for all of our wonderful patients here in Aurora, Colorado. We hope that you get to enjoy some delicious pie with your family this Thanksgiving, no matter where you get it from.
Just promise us you'll brush your teeth and floss after eating your sugary dessert! Happy holidays!
Don't forget to make your kids' dental appointments with us before school starts up again! We hope to see you and your child soon.